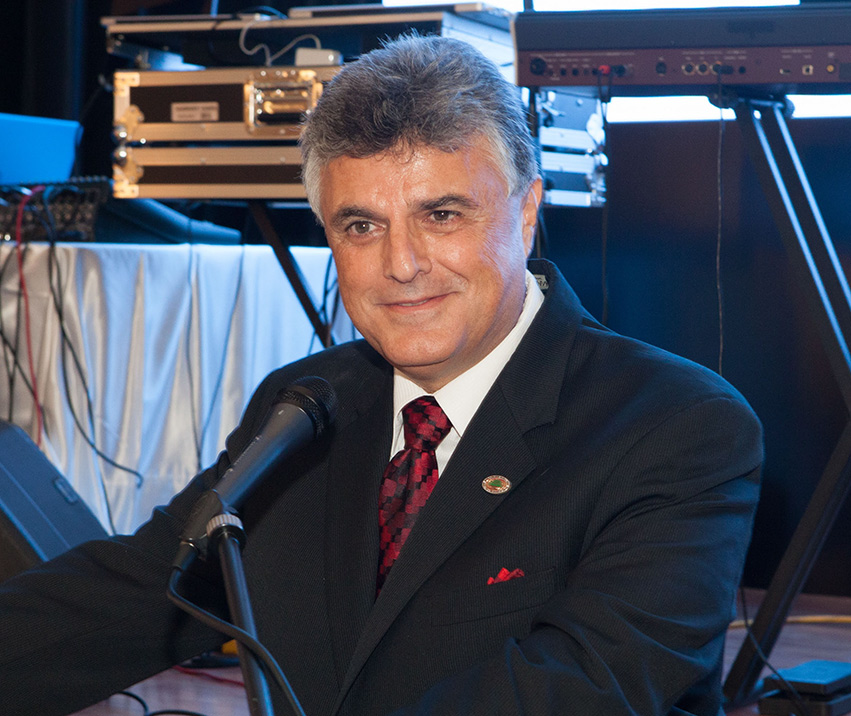 FERRIS WEHBE
Hollywood, CA
E: [email protected]
HOLLYWOOD CHAMBER PAC
Board Member
THE GETTY HOUSE FOUNDATION
Treasurer
CENTRAL HOLLYWOOD NEIGHBORHOOD COUNCIL
Vice President
HOLLYWOOD COMMUNITY POLICE ADVISORY BOARD
Co-Chair
WORLD LEBANESE CULTURAL UNION
Advisor to the President
LOS ANGELES CEDARS ROTARY
Treasurer
HOUSE OF LEBANON
Board Member
MEDIA BUSINESS IMPROVEMENT DISTRICT
Board Member
Ferris Wehbe was born in Lebanon in 1957, and at 17 had to leave due to the Civil War, arriving in the United States. Knowing he may never be able to return, Ferris immersed himself in the American Culture and system. His natural inclination towards social service led him to community activism and American Citizenship. Ferris fully embraces American Democracy and the entrepreneurial spirit while continuing to work for the betterment of others. Ferris is a longtime member of Rotary International, serving on Club and District Boards.
Ferris knows that change doesn't happen overnight; it happens step by step. As a longtime resident, business owner, and community leader in Hollywood, Ferris walked the neighborhood to meet local residents and business owners; he brought everyone together to walk the streets when the area was overrun with crime, and he knocked on doors when a young candidate named Eric Garcetti was first running for City Council.
Since 1983, Ferris and his wife Debbie have operated F&D Properties, one of the few real estate companies willing to invest in Hollywood when others were abandoning it. During this time, Ferris and Debbie owned and operated the acclaimed Hollywood Schoolhouse (founded by Debbie's family in 1945) which served as a safe-haven for neighborhood children, and now serves as a national model for creative learning for grades K-6.
In 1988, Ferris co-founded the Hollywood Sentinels Neighborhood Watch program to address the drug dealing, gangs, and prostitution that had overrun the neighborhood. For over six years, he led local residents on nightly patrols of the area until they had taken back their streets.
Recognizing that tackling crime would require a holistic approach, Ferris spearheaded several programs to serve neighborhood children. As a founding member of the Hollywood Youth Charities, Board of Governors, Ferris was instrumental in raising over $300,000 for youth activities. During his time as President of the Hollywood Police Activities League, membership rose from 25 to 1,300 children, with four full-time officers serving six community locations, including the Hollywood Schoolhouse.
Ferris also launched the Hollywood Youth Collaborative, an inter-agency program that provides after-school activities for children, and he raised over $200,000 to replace outdated LAPD computers and other vital equipment needed to protect the neighborhood. The LAPD attributes many of Ferris' efforts to a 60% reduction in youth-related local crime. These efforts to tackle neighborhood crime earned national attention and still serve as an example for neighborhood empowerment Citywide.
In addition to his early community organizing, Ferris was integral to the launch of several other efforts to improve Hollywood. The Hollywood Beautification Team, a highly acclaimed program that cleans and beautifies neighborhoods across Los Angeles, was conceived in Ferris' living room in the early 1990's. Now renamed HLABT, it serves entire communities by: planting trees, designing and implementing resource conservation projects, improving school campuses, neighborhoods and business districts.
Ferris is a founder of the Hollywood Media District, Business Improvement District (BID) first established in 2000, and continues to serve on the board. The mission of the Hollywood Media District is to enhance the security, cleanliness, beautification and commercial desirability of the area.
As Co-Chair of the Hollywood Redevelopment Project, Community Redevelopment Agency Los Angeles, Ferris oversaw the 1,107-acre Hollywood Redevelopment Plan goals including encouraging economic development; promoting and retaining the entertainment industry; revitalizing the historic core; preserving and expanding housing for all income groups; meeting social needs of area residents; providing urban design guidelines; and preserving historically significant structures.
Over time, Ferris' community organizing segued into political action. Frustrated by the lack of accountability for problems in local neighborhoods, Ferris served as President of Hollywood VOTE, a group formed to explore the feasibility of forming an independent City of Hollywood. Hollywood VOTE collected 38,000 signatures to put the issue to the voters on the 2002 ballot.
Ferris is a founding member of the Los Angeles Beirut Sister City Committee, and currently serves as its Chairman. He led the Citizen Delegation to Lebanon in 2006 where the official documents were signed. The Los Angeles Beirut Sister City Committee was established to create a bridge of understanding and friendship between the residents of these two great cities, and to foster cultural, social, and business exchanges.
Ferris dedicates numerous hours to volunteer organizations benefiting his local community and international projects. In 2006, Ferris served as the Senior Assistant Governor for Special Projects, Rotary International District 5280, where he was charged with chartering 3 new clubs: Historic Filipino Town Rotary Club, Thai Town Rotary Club, and Los Angeles Cedars Rotary Club. His service to Rotary continues through Los Angeles Cedars Rotary Club as Treasure and International Grant writer having raised $200,000 for clean water projects in Lebanon.
In 2013, Ferris served as the Finance Chair for Eric Garcetti's Super PAC, Lots Of People Who Support Eric Garcetti, and raised $2.4 million in 90 days.
A strong supporter and user of public transportation, Ferris served as the Co-Chair of Measure M supporting a tax increase for the Los Angeles County Traffic Improvement Plan. He envisions a future of greater access to affordable public transportation for all, less traffic, and a cleaner environment.
He serves on the board of the House of Lebanon, and has been instrumental in locating a permanent structure for the organization and its activities.
He is currently serving as: Treasurer of the Getty House Foundation; Vice President of the Central Hollywood Neighborhood Council; Co-Chair of the Hollywood Community Police Advisory Board; Advisor to the President of the World Lebanese Cultural Union; Treasurer, Los Angeles Cedars Rotary Club; Board Member, House of Lebanon; Board Member, Media Business Improvement District.
Ferris and his wife Debbie still reside in Hollywood where they have raised their four children: Ethan, Eric, Laila, and Nadia. Ferris enjoys visits from his grandchildren, Rocco and Kingsley, who attend the Hollywood Schoolhouse. When Ferris is not working, he can be found hiking the trails of Griffith Park and walking the streets of his beloved Hollywood.